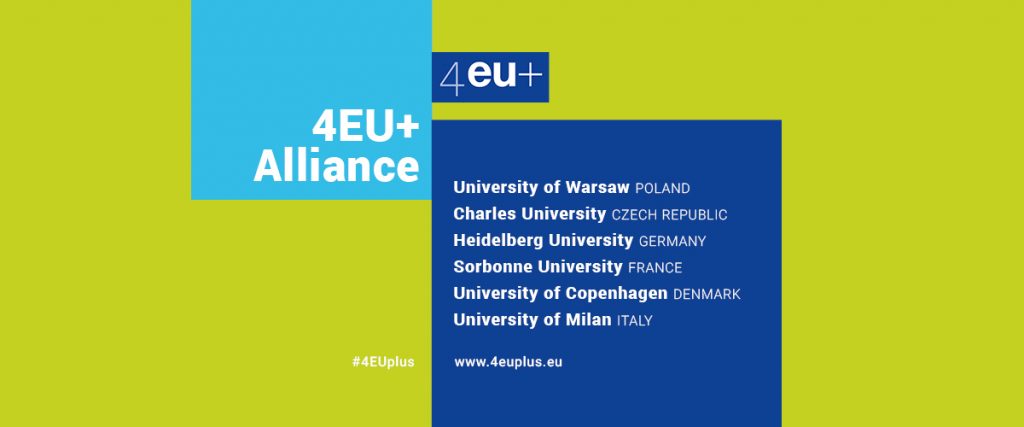 In March 2018, the University of Warsaw, together with three other research-intensive European universities: Charles University (Czech Republic), Sorbonne University (France), and Heidelberg University (Germany), signed a declaration on the establishment of a European University Alliance which will bring together academics, researchers and students. The agreement was signed on 10 March 2018 in Paris by Prof. Marcin Pałys, Rector of the University of Warsaw, Prof. MUDr. Tomáš Zima, DrSc.,MBA, Rector of the Charles University, Prof. Dr. Jean Chambaz, President of the Sorbonne Université, and Prof. Dr. Dr. h.c. Bernhard Eitel, President of the Heidelberg University. 
In autumn 2018, the Alliance expanded to include two universities, the University of Copenhagen (Denmark) and the University of Milan (Italy) 4EU thus becoming 4EU+. The six institutions signed a Memorandum of Understanding and approved a Mission Statement, which reflects the universities' shared sense of responsibility in providing solutions to important global challenges and ensuring a better balance within European higher education.
In 2022 and 2023 there were other two subsequent extensions of the 4EU+ Alliance by joining it by the University of Geneve and Paris-Panthéon-Assas University contribution to building One Comprehensive Research-Intensive European 4EU+ University.
The alliance aims at strengthening cooperation in research, education, and the mobility of researchers and students as well as developing activities in innovation and entrepreneurship. The alliance will create a simple, flexible and reactive governing and management structure.
The cooperation is based on a common understanding of the idea of the European university that builds on academic freedom and autonomy and ensures fair access to education.

The aim of the alliance is to:
create a unique and flexible academic environment for students, researchers and staff,
remove obstacles to the free circulation of individuals, ideas and best practices between their universities,
enable shared platforms and expanded access to the resources of our universities to address large, complex challenges,
integrate teaching and research to provide a world-leading experience for students from all over the world where new ideas will thrive,
create a common infrastructure that provides added value for the individuals as well as for each particular university.
INFORMATION AND RESOURCES
CONTACT INFORMATION
✉️ Diana Pustuła, M.A., LL.M. – overall coordination of 4EU+ activities at UW, joint 4EU+ research projects and activities
✉️ Marta Jaworska-Oknińska, PhD  – 4EU+ educational activities
✉️ Marta Brelih-Wąsowska, M.A.  – 4EU+ communication and dissemination activities, coordination of 4EU+ Alliance Communications working group
✉️ Aleksandra Szymańska, M.A,  – 4EU+ project manager
✉️ Katarzyna Ścierańska, M.A.  – 4EU+ communication and dissemination activities
4EU+ team address: University of Warsaw Library, Dobra Street 56/66, 00-312 Warsaw, room 2.70, 2nd floor (map)
Dr Catherine Suski-Grabowski, Interdisciplinary Centre for Mathematical and Computational Modelling / Dr Grzegorz Kula, Faculty of Economic Sciences – Flagship 1 "Health and demographic change in an urban environment"
Dr hab. Anna Wojtyś, Faculty of Modern Languages / Dr hab. Agata Bareja-Starzyńska, Faculty of Oriental Studies – Flagship 2 "Europe in a changing world: Understanding and engaging societies, economies, cultures and languages"
Dr hab Błażej Miasojedow, Faculty of Mathematics, Informatics and Mechanics / Prof. Agnieszka Świerczewska-Gwiazda, Faculty of Mathematics, Informatics and Mechanics – Flagship 3 "Transforming science and society by advancing information, computation and communication"
Dr Julia Pawłowska, Faculty of Biology / Dr Mariola Zalewska, University Centre for Environmental Studies and Sustainable Development  – Flagship 4 "Biodiversity and sustainable development"
OPPORTUNITIES FOR STAFF